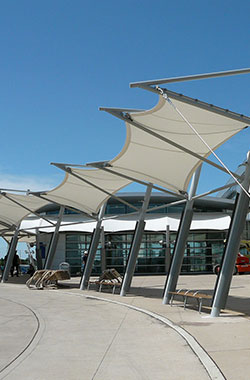 Tensile Fabric Structures
services in Chennai, Bangalore, Coimbatore, Cochin. in Tamilnadu, South India & Pan India
We also serve all big towns like Madurai, Tiruchirappalli (Trichy), Tiruppur (Tirupur), Salem, Erode, Tirunelveli, Vellore, Thoothukkudi (Tuticorin), Dindigul, Thanjavur, Ranipet, Sivakasi, Karur, Ooty (Udhagamandalam), Hosur, Nagercoil, Kanchipuram, Kumarapalayam, Karaikkudi, Neyveli, Cuddalore, Kumbakonam, Tiruvannamalai, Pollachi, Rajapalayam, Gudiyatham, Pudukottai etc. in Tamilnadu
4C provides professional, specialist service of design, manufacture and installation of architectural tensile fabric structures. We are able to offer a complete turnkey service from initial concept design, through to site installation works, including the supply of structural support steelwork. Personalized tensile fabric structures from our team of Designers and Engineers – transforming ideas into efficient, buildable and memorable solutions.
We offer high quality, light and heavy weight tensile membrane structures, rooftops, sides, tents, halls, domes, etc. Our pre-engineered tensile fabric structures are lightweight, steel/aluminium framed fabric constructions suitable for interim or permanent applications. The anodized box beam framing system is tensioned using industry leading tensile membranes. The combination of the framing and panel tensioning systems of our tensile fabric structures allows speedy installation and relocation. Our tensile structures are engineered and manufactured using high quality materials in accordance with industry standards.
Tensile structures
A tensile structure is a construction of elements carrying only tension and no compression or bending. Tensile structures are the most common type of thin-shell structures. Most tensile structures are supported by some form of compression or bending elements, such as masts compression rings or beams.
Features of Tensile Structures:
Aesthetical, light weight and durable designs
Covers large areas. No support needed for constructions.
Provides natural lighting
Also can prevent light transmission and significantly reduce heat transmission
Lightweight & heavy weight fabrics available for project specific needs
Tensile Fabric
Tensile fabric rewrites the way we think about architecture – bringing curvature, translucency, and clear spans to both external and internal space. The flexible nature of tensile fabric means that individual areas of any size can be fabricated, transported to site, and installed with maximum efficiency of time and cost. Fabric/Textile buildings are built to the same structural codes as permanent buildings.
Tensile fabric provides an innovative and efficient alternative to conventional stretch ceiling systems and interior surface paneling. Fabric/Textile construction is accepted increasingly all over the world. A very advanced and high tech type of technical textile is used for textile architecture.
Tensile membrane structure can be used as fabric ceiling system for both interior and exterior projects. The modular design simplifies the construction process and allows for greater speed of installation. A tensile membrane structure is most often used as a roof, as they can economically and attractively span large distances.
Textile membranes also used as suspended ceilings, hanging ceilings, liners for air supported halls, industrial halls, light weight construction halls, event halls, sport halls, modular industrial constructions, solar protection, interior architectural textiles, textile facades, Car Shades, Parking Shades, Roof covers, Shelter, Structures for Restaurants etc.
Features of Tensile Membranes:
Take any shape and almost any size
Great Aesthetics
Durable : Withstand the worst winds, the harshest sun and the wettest weather for very long life
Light Weight
Flame Resistant, Perfect UV resistance
High abrasion resistance
Prevents Natural and industrial dirt to settle : Aggressive dirt can be cleaned with normal detergent soap and water
Provides protection from the elements without interrupting the view and the natural light
Covers large area without support
Ease of Fabrication
Perfect weldability
Quick Installation
Ease of Maintenance
100% Recyclable
Are you visioning for a fast, simple, economical, aesthetically appealing yet durable roofing systems?
Let us know your requirements and preferences, we will meet your expectations!