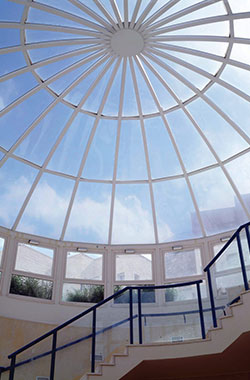 Polycarbonate Panel Works
in Chennai, Bangalore, Coimbatore, Cochin. in Tamilnadu, South India & Pan India
We also serve all big towns like Madurai, Tiruchirappalli (Trichy), Tiruppur (Tirupur), Salem, Erode, Tirunelveli, Vellore, Thoothukkudi (Tuticorin), Dindigul, Thanjavur, Ranipet, Sivakasi, Karur, Ooty (Udhagamandalam), Hosur, Nagercoil, Kanchipuram, Kumarapalayam, Karaikkudi, Neyveli, Cuddalore, Kumbakonam, Tiruvannamalai, Pollachi, Rajapalayam, Gudiyatham, Pudukottai etc. in Tamilnadu
Polycarbonate
Polycarbonate is a type of thermoplastic ÔÇö that is, a polymer that becomes pliable or moldable above a specific temperature and returns to a solid state upon cooling.
Polycarbonate belongs to the group of "engineering thermoplastics". These are grouped together because of specific properties that allow them to be used in rigorous applications, particularly in the electronics, automotive, construction and manufacturing fields.
Polycarbonate Panels
Polycarbonate panels offer the advantages of thermal performance, strength and aesthetic appeal, making them suitable for use in glazing, cladding and roofing.
Polycarbonate panels are used mainly for facade glazing and cladding, as an alternative to glass or GRP (glass reinforced plastic) curtain walling and cladding, as well as conventional rain-screen systems. They can also be used for roofing, canopies and interior design elements.
The main properties of polycarbonate that make it ideal for construction applications include:
Inherent toughness
Transparency
Stability across a wide range of temperatures
High refractive index (so it reflects heat radiation)
Good thermal performance
Ease of adding colour, including bespoke colour, and of mixing to create new compounds.
Benefits
Aesthetics: Polycarbonate panels come in a range of colours and degrees of translucency. Blocks of coloured panels can be arranged into patterns and illuminated facades can be created by combining translucent panels with LED or ambient lighting systems. As a thermoplastic, polycarbonate can also be moulded into curved panels to create bespoke facade treatments.
Thermal performance: Translucent polycarbonate wall panels can be manufactured as a single-wall construction or as a double-wall construction. These panels can be used to allow natural daylight to enter a building without compromising its thermal efficiency. Light transmission through translucent panels can be up to 65%.
Weight: Polycarbonate panels are lighter than glass or solid wall systems, so require lighter support structures, which can help to reduce costs.
Strength: Polycarbonate has excellent impact properties and are up to 200 times stronger than glass. Polycarbonate elements do not crumble or splinter.
Weather resistance: Polycarbonate panels have been tested for air and water permeability
Solar resistance: UV filters can be extruded into the polycarbonate, reducing solar gain without blocking natural daylight or the need for a separate film over the panel.
Fire resistance: Polycarbonate has a very high ignition temperature and, in case of fire, produces very little smoke.
Acoustic protection: Despite their light weight, polycarbonate elements have a good sound insulation value of up to 27dB. With a double-wall construction, a value of up to 43dB is achievable.
Polycarbonate systems
Polycarbonate systems are impact rated and an excellent choice for residential and commercial jobs. Clean-line, modern appearances are achieved with the use of this polycarbonate system. The appearance is vastly different when compared to glass, evoking a more contemporary feel. It is often chosen for its aesthetic appeal and design flexibilities. Polycarbonate is available in clear, opal, or heat reflective.
The multiple walls polycarbonate systems give the polycarbonate a light transmittance, which allows natural daylight to enter through it. Thus Canopies, Skylights/ rooflights, domes, shelters, walls, doors, windows etc. which utilizes polycarbonate allows a comparable amount of light to enter a room.
The benefits of this flexible and green product are insurpassable in terms of quality and function for walls, windows, skylights and interior/exterior projects.
Polycarbonate Canopy
The polycarbonate material is lightweight, impact resistant and inexpensive. Polycarbonate canopies can be curved, single sloped, or as shown here, two slopes converging on a central gutter which makes it an ideal choice for commercial and industrial pavilions and walkways. Also Polycarbonate canopies can be cold formed to a radius for a distinct architectural look and eye-catching design.
Whether you need one of our standard systems or a custom design, polycarbonate canopies are practical and beautiful.
Polycarbonate Domes, Rooflights & Skylights
Polycarbonate is a hard, durable and versatile form of plastic widely used in construction. It can be moulded into rounded shapes and is light and relatively inexpensive. We offer a huge range of polycarbonate dome rooflights & skylights to suit your needs and lifestyle.
Polycarbonate rooflights are available in a dome, pyramid or trapezoid shape, in either square, rectangular or circular sizes. Polycarbonate domes and rooflights can also be designed in many different sizes to meet your very need.
We are able to deliver poly rooflights and skylights to a huge number of sizes and requirements, as well as standard rooflights.
Polycarbonate Glazing
Polycarbonate is an excellent replacement for roof glass. Polycarbonate glazing or polycarbonate sheeting (also called twinwall or multiwall) is one of the most cost effective covering solutions. Polycarbonate is the perfect glazing for any greenhouse application and many other construction applications. It is popular because of its toughness, high light transmission, long service life, insulation value, light weight, easy handling, rigidity, and neat appearance.
Polycarbonate glazings are widely used as single-wall coverings and twin-wall (multiwall) coverings with or without special exterior surface coating (treated / untreated).
Twinwall or multiwall polycarbonate sheeting allows effective heat loss reductions from when used instead of regular glass. Insulation values increase with thicker sheets.
Polycarbonate sheets can be used for new construction or reglazing an existing greenhouse. Most aluminum and glass greenhouses can easily be insulated with polycarbonate using the existing glazing clips or bar caps.
Polycarbonate shelters
The Polycarbonate material is well known for its properties over the more conventional glass and acrylic material. Polycarbonate is lightweight and nearly 200 times stronger than most glass, allowing it to provide excellent protection from the elements like heavy rain, hail, and snow. Canopies, walkways, and bus shelters designed using polycarbonate combine all of the material's beneficial features:
Effective
Light transmission
High strength
Light weight
Cost effectiveness
Polycarbonate structures, such as bus stop shelters, can easily be constructed for an affordable cost and last for years to come. These structures are also easy to repair if damaged or vandalized in high traffic, unsupervised areas.
We offer a range of Polycarbonate sheltering solutions that are widely appreciated for their excellent quality.
Polycarbonate Doors & Windows
Sliding doors are common equipment in most modern construction since they can expand a room's natural view.
With the current innovations, polycarbonate panels for sliding doors come in different forms such as retractable screen and sliding doors.
These polycarbonate doors have been incorporated in other structures such as pool enclosures, sheds and green houses.
Polycarbonate sliding doors are available in multiple configurations. Some of the most common doors are constructed from textured polycarbonate panels such as prismatic and matte sheets.
Polycarbonates have apparently become the most popular materials due to the following reasons:
Superior physical qualities
Lightweight
Hard coating
Ease and cost of maintenance