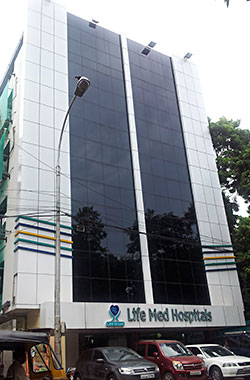 Cladding Services
Contractors in Tamilnadu, South India & Pan India
We provide Aluminium Composite Panels (ACP) Cladding, Building Exterior Facade Cladding, Fiber Cement Board (FCB) Cladding, Rain Screen Cladding also in Madurai, Tiruchirappalli (Trichy), Tiruppur (Tirupur), Salem, Erode, Tirunelveli, Vellore, Thoothukkudi (Tuticorin), Dindigul, Thanjavur, Ranipet, Sivakasi, Karur, Ooty (Udhagamandalam), Hosur, Nagercoil, Kanchipuram, Kumarapalayam, Karaikkudi, Neyveli, Cuddalore, Kumbakonam, Tiruvannamalai, Pollachi, Rajapalayam, Gudiyatham, Pudukottai etc in Tamilnadu.
Cladding
In construction, cladding or siding refers to a protective or insulating layer fixed to the exteriors of a building or another structure. This structural cladding form the skin of the building serves as a control feature, weathered shell, protects and strengthens a building. Cladding can also create a building an attractive look.
Advantages of Cladding
Low Maintenance
The main advantage of cladding is the least maintenance required as compared to painting. Most external cladding requires nothing more than regular washing to keep up its freshness. Aluminum cladding, for instance, provides long-lasting flexibility, protection from outer weather conditions needs roughly no maintenance.
Protection & Safety
External cladding increases building strength so improves its resistance to cracking during heavy temperature. While structural cladding increases resistance to sunlight, it cuts down water absorption. Cladding also shields against rain, strong winds.
Visual Value
Exterior cladding transforms the look of a building structure visually pleasing and enhances its market value. A wide range of cladding solutions available and each type provides a unique look to a building facade.
4C - Building Exterior Facade Cladding Company
4C, the complete facade company, run by a team of efficient engineers with great experience in the facade industry.
Over the years 4C, the Chennai based cladding contractors, has been expanding their services to the entire India including Coimbatore, Cochin, Bangalore due to their sincerity, assured quality and timely services rendered to their clients ranging from architects, interior designers, engineers to building owners.
Backed with an experienced organizational structure and highly skilled labour, 4C has been delivering the dreams of architects come true and becoming the one stop shop for varied facade cladding requirements all under one roof.
Various cladding solutions offered:
Aluminium Composite Panel (ACP) Cladding
Aluminium Composite Panel (ACP) is one type of flat panels that consist of a non-aluminium core bonded between two aluminium panes. Aluminium sheets can be coated with Polyester paint or PVDF. ACPs are often used for external cladding of buildings, for signage and insulation.
Aluminium Composite Panel (ACP) is very stiff and tough despite its light weight. Aluminium can be painted in any colour, and ACPs are manufactured in a broad range of metallic and non-metallic colours as well as patterns that mimic other materials like wood or marble.
Fiber Cement Board (FCB) Cladding
Fiber cement is a composite building material made of sand, cement and cellulose fibers. Fiber cement cladding is the ideal low maintenance, rot free alternative to traditional timber weatherboarding in high fire risk areas. Fiber cement cladding offers with great choice for flexibility, sustainability and performance.
Rain Screen Cladding
Rainscreen cladding is the attachment of an outer skin of rear-ventilated cladding to a new or existing building. The system is a form of double-wall construction that uses an outer layer to keep out the rain and an inner layer to provide thermal insulation, prevent excessive air leakage and carry wind loading. The outer layer breathes like a skin while the inner layer reduces energy losses. The structural frame of the building is kept absolutely dry, as water never reaches it or the thermal insulation. Evaporation and drainage in the cavity removes water that penetrates between panel joints.