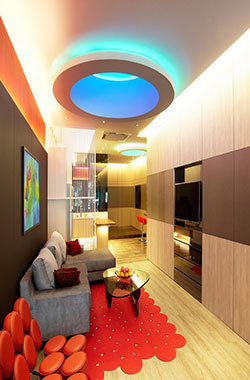 High Pressure Laminate Panel Cladding Services
in Chennai, Bangalore, Coimbatore, Cochin. in Tamilnadu, South India & Pan India
We also serve all big towns like Madurai, Tiruchirappalli (Trichy), Tiruppur (Tirupur), Salem, Erode, Tirunelveli, Vellore, Thoothukkudi (Tuticorin), Dindigul, Thanjavur, Ranipet, Sivakasi, Karur, Ooty (Udhagamandalam), Hosur, Nagercoil, Kanchipuram, Kumarapalayam, Karaikkudi, Neyveli, Cuddalore, Kumbakonam, Tiruvannamalai, Pollachi, Rajapalayam, Gudiyatham, Pudukottai etc. in Tamilnadu
4C is the leading High pressure laminate panel cladding service providers in Tamilnadu. As a fa├žade and cladding engineering company, 4C has completed numerous cladding projects using HPL panel entire South India including major cities like Chennai, Bengaluru, Coimbatore and Cochin.
High pressure laminates (HPL) composite panels have integrated decorative surfaces with pigmented resins, cured by electron beams, to give an excellent product for a wide range of exterior applications. High Pressure Laminates (HPL) has outstanding industrial properties make it suitable for the building architectural industry as a best alternative to traditional materials.
High Pressure Laminates (HPL) is acclaimed for its extremely effective weather protection properties which consist of double-hardened acrylic PUR resins. They are produced in a lamination press under great pressure and high temperature using high-end technology that makes them resistant against fading, fire, extreme weather conditions, microbial threats and moisture. This serves to make an extremely tough panel, with a highly scratch and dent resistant surface.
High Pressure Laminates are available in a wide range exciting decorative finishes thus find usage in various industries, factories, storage areas, warehouses and also for domestic purposes. It also used widely for clad facades, balconies, street furniture, external signs etc.
HPL (High Pressure Laminates) are also best for interior walls cladding (including damp rooms and rooms subjected to external influences, such as schools, hospitals and trade centers). Apart from having excellent working characteristics, HPL panels are offered in a broad variety of colors and textures, which do not change their appearance for a long time. It allows creating an incredibly stylish and practical interior even where it was extremely difficult before. There is no need in preliminary preparation of the surface when using compact laminate for walls cladding, regardless of the type of wall material (brick, concrete, foam concrete blocks or plasterboard).
Exterior High Pressure Laminate (HPL), the New Age Exterior Fa├žade, is particularly suitable for installation as ventilated fa├žade system. It offers breathing space for buildings, thus making a vent for the internal moisture to release. It protects buildings from excess temperature in summer, excess cold in winter and also provides noise insulation.
High Pressure Laminate (HPL) Panels' main applications are:
Over claddings
Exterior cladding
Balcony panels
Soffit panels
Fascia cladding
Sandwich panels
Advertising and signage boards
Balustrades
Outdoor/recreational furniture
Salient Features of HPL Panels:
Versatile applications: Used for Fa├žade, Cladding, Railings, Balcony, Partitions, Fences and more.
Wide range of colours and patterns: Natural Textures such as wood, stone and abstracts. More than 200 shades available.
High weather resistance
High Scratch Resistance
Extremely high solvent resistance
Impact resistant
Self-supporting
Resistant to water and steam
Non-corroding and durable
Do not contain any harmful substances
Does not get dirty or hold bacteria
Self cleaning feature makes it maintenance free.
Easy to clean, care and repair
High mechanical strength (no risk of breaking / bending )
Low smoke and non-drip fire performance
Fade Resistant Nano-technological Surface
Advance UV Protection ÔÇô Protects from solar rays, acid rains, chemicals and dust storms.
Resistance to staining
Resistance to atmospheric conditions
Resistance to swelling in boiling water
Physical resistance to strikes and abrasion
Maximum light fastness
Overall lightweight sbustructure and facade
Dimensional stability and flatness
Light weight facade system
Graffiti or Vandalism proof.
Noise Insulation: Prevents 14 DB of exterior noise.
Decorative
Easy to install
Can be worked with standard joinery equipment
Multiple fixing options: Rivet fixing, 3 m lock panel gluing system, L angle fixing, Z clip fixing.
Contact us today for more information regarding our service areas across South India.
If your architectural project or building needs very stylish, decorative yet extremely effective weather protection, you have a wide range of HPL panels to choose from. You can call our fa├žade engineers to provide you the best suitable HPL panel cladding services according to your need and specifications.